A Washington Post Best Novel of the Year & NPR Best Mystery of the Year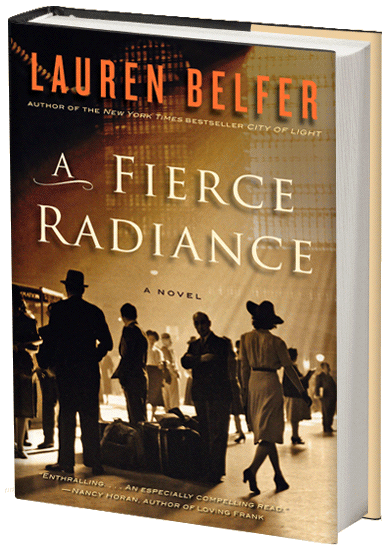 Book Extras
Excerpt | Author's Note | Surprising Facts | Reading Group Guide
Order From
New York City is awash with a sense of purpose in 1941, in the days following the U.S.'s involvement in WWII. Emotions are heightened, and everyone wants to do something meaningful. Claire Shipley stumbles upon the greatest story of her career when she is assigned to take pictures of the scientists at the Rockefeller Institute who are working against time to develop life-saving antibiotics. Little does she know that the assignment will involve blackmail, espionage, and murder.
Claire is shocked by what she finds at the Institute: the doctors and researchers are attempting to cure fatal infections with a little-known, temperamental medicine. The medicine is called penicillin. Claire's young daughter died from an infection contracted from a scrape on her knee, and so what was simply another assignment for Claire quickly becomes deeply personal.
As the nation plunges into war, Claire begins an intense love affair with James Stanton, an Institute physician given the difficult, top-secret task of coordinating penicillin research for the military. Meanwhile Edward Rutherford, Claire's long-estranged father and a self-made millionaire entrepreneur, comprehends the potential of new medications like penicillin to transform the very nature of human existence. When an Institute researcher dies under suspicious circumstances, the stakes involved in the antibiotic breakthrough become starkly clear: with fortunes to be made in the business of saving lives, some person, or some company, is willing to commit murder to gain control of the best of the new medications. Caught amidst the extremes of war and greed, Claire and Jamie find their love challenged in ways they could never have predicted.
A Fierce Radiance is at once a thriller, a love story, a family saga, and a window into American history, evoking the pure essence of war-time New York. It portrays the tumultuous early days of World War II, when many feared that America would lose the war, when even children were caught up in the sacrifices demanded by the nation's mobilization, and when individuals clung fiercely to their loved ones, because no one could predict what tomorrow would bring. In addition, the novel recreates the era before antibiotics, when fatal infections were so common that parents could never count on their children surviving into adulthood. Belfer's historical exploration of the origins of these life-saving drugs, whose efficacy has since been reduced through over-prescription and the growth of antibiotic-resistant strains of bacteria, is a natural segue to today's heated debate in the medical community over antibiotic use.
Praise for A Fierce Radiance
Book Riot included A Fierce Radiance on their list of 100 Must-Read Books of U.S. Historical Fiction
The Washington Post has named A Fierce Radiance to their list of the Best Novels of 2010
NPR has named A Fierce Radiance one of the best mysteries of 2010
"Historical fiction that sizzles."
–  The Washington Post
"A feast of storytelling wonders."
–  Salon.com
"An adventure story."
–  The New York Times Book Review
"A love story and murder mystery rolled into panoramic family saga and industrial-espionage thriller….Belfer's prose is heartbreaking, as are her twin themes of love and betrayal."
–  USA Today
"Lauren Belfer's story of love in the time of penicillin is enthralling. A Fierce Radiance shines with fascinating detail about a moment in American history we have mostly forgotten, when penicillin was new, miraculous, and in short supply. Belfer's powerful portrayal of how people are changed in pursuit of a miracle makes this book an especially compelling read."
– Nancy Horan, author of Loving Frank
An engrossing and ambitious novel that vividly portrays a critical time in American history.
–  Booklist, starred review
Belfer's second novel (after acclaimed A City of Light) follows the development of penicillin during World War II. This fulsome tale crackles with twists and rich, compelling characters struggling through. And it's a beautiful valentine to 1940s New York City. Lauren Belfer is a feeling person's Dan Brown! Great storytelling and worth the wait!.
–  Eileen Charbonneau, Merritt Bookstore, Millbrook and Red Hook, New York
For more reviews and web links, please see the Press page.