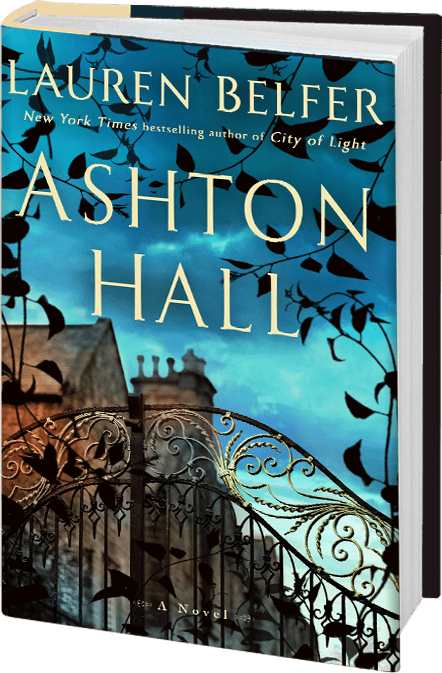 Recommended by The New York Times Book Review
Order Today
Book Extras
Book Club Kit
Author's Note
Pictures of Inspirations
Resources & Bibliography
An American woman and her son unearth the buried secrets and past lives of an English manor house in this masterful and riveting novel from New York Times bestselling author Lauren Belfer. 
"Infused with the brooding, gothic atmosphere of Jane Eyre or Rebecca … a novel that must be savored, one page at a time." (Melanie Benjamin, author of The Children's Blizzard) 
"How many lives can you imagine yourself living?"
Or so Hannah Larson wonders. When an uncle falls ill, Hannah and her young son, Nicky, decide to join him for the summer at Ashton Hall, a historic manor house outside Cambridge, England. Hannah gave up her academic career to raise her beloved child – Nicky is neurodivergent and experiences the world differently from others – and she's grateful to escape her life in New York City, where her marriage has been upended by a devastating betrayal. 
Soon after their arrival, ever-curious Nicky finds the skeletal remains of a woman who had been walled into a forgotten part of the manor, and Hannah is pulled into an all-consuming quest for answers. Working from clues in centuries-old ledgers and the personal papers of the long-departed family, Hannah begins to recreate the Ashton Hall of the Elizabethan era in all its color and conflict. As the secrets of her own life begin to unravel, and the rewards and complications of being Nicky's mother come into focus, Hannah realizes that Ashton Hall's women had lives not so different from her own. She confronts what women throughout history have had to do to control their own destinies and protect their children. 
Rich with passion, strength, and ferocity across the ages, Ashton Hall is a novel that reveals how the most profound hauntings are within ourselves.
Praise for Ashton Hall
"This book has Daphne-Du-Maurier-meets-Kate-Morton vibes and I was THERE FOR ALL OF IT. The setting, the skeleton, the mystery, the lovable characters … What an addictive read!"
—Julie Clark, New York Times bestselling author of The Lies I Tell.
"Exquisitely illuminated."
—Booklist
"Ashton Hall is going to have wide appeal … I would put this on anybody's must-read fiction list."
—Pamela Klinger-Horn, Thoughts from a Page Podcast, May 6, 2022
"Belfer's latest is a brilliant, immersive story about one woman searching for answers to a terrible discovery from centuries earlier. The captivating threads of the plot – an English manor house with secret rooms and a dark past, a mother struggling with her atypical son – are rounded out with a lively cast of locals who had me laughing out loud. Rich with intrigue and historical detail, and a stunning achievement."
—Fiona Davis, New York Times bestselling author of The Magnolia Palace
"Lauren Belfer's Ashton Hall is masterful, riveting, and atmospheric historical fiction. It made me want to don a velvet cloak, brew a cup of tea, and settle in to watch Hannah and her ingenious son unravel the fascinating, dark, centuries-old secrets of the manor home."
—Alka Joshi, New York Times bestselling author of The Henna Artist
"With vibrant prose and fine-tuned psychological acumen, Belfer shepherds us through a centuries-old mystery and into a modern-day introspection on motherhood, marriage, and love. A virtuosic tapestry of cultures and eras, woven with exquisite precision and detail."
—Georgia Hunter, New York Times bestselling author of We Were the Lucky Ones
"In Ashton Hall, Lauren Belfer has treated us to a novel infused with the brooding, gothic atmosphere of Jane Eyre or Rebecca. And like those classics, at its heart this is a novel about a woman's journey of self-discovery. How does a wife and mother reclaim her dreams when her world is turned upside down? In her quest to learn the identity of a skeleton entombed in the heart of a British manor house while dealing with her troubled son and straying husband, Hannah Larson tries to piece together the puzzle that has become her own life. This is a novel that must be savored, one page at a time."
—Melanie Benjamin, New York Times Bestselling Author of The Aviator's Wife and The Children's Blizzard